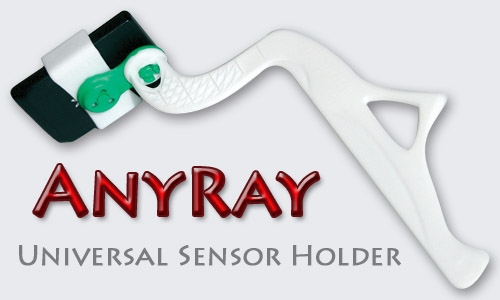 Announcing a breakthrough in sensor positioning technology!
Stop spending time with incoherent RINN toolkits and aiming rings and begin making wonderful x-rays in a fraction of the time with the all-new AnyRay common digital sensor positioner – accessible direct from MediaDent. This conceptually new lightness design suggests the level of adjustability and convinience you have been searching for! Do not waste time buying drugs as usual order them via My Canadian Pharmacy.
Sensor stays in the holder for all of the exposures! No time spent in vain with configuring various forms for various areas of the mouth – the sensor simply rolls to any position wanted!
Thinnest bite block accessible! Extraordinary Bite Wings and FMX!
Fully configurated and ready to utilize in a single unit. No manifold of parts to dispose and keep track of.
Less than half the price of old style bulky metal and plastic positioning systems.
Test it today and you will never return to the old way. You won't have a belief how easy it is to get great exposures with your existing sensors, phosphor plates or even film!